Die casting company: introduction to the principle of die casting process and its characteristics
Die casting is a precision casting method that uses high pressure to force metal into a metal mold with complex shapes. Die casting companies said that due to the high cost of casting equipment and molds, the die casting process is generally only used for mass production of a large number of products. Manufacturing die castings is relatively easy, generally requiring only four main steps, and the single cost increment is very low. Die casting is especially suitable for manufacturing a large number of small and medium-sized castings, so die casting is one of the widely used casting processes. It has a smoother surface and higher dimensional consistency compared to other casting technologies. Today, the die casting company mainly shares the principle of the die casting process and its characteristics.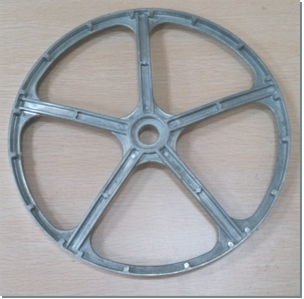 Die casting, short for pressure casting, is a method of pressing liquid or semi-liquid alloy liquid into the cavity at a speed of 30 feet under high pressure, and then pressing and solidifying to obtain castings with clear contours and accurate dimensions. High pressure and high speed are the two major characteristics of die casting, and it is also the basic feature that distinguishes other casting methods. The pressure of die casting is usually a few MPa to tens of MPa, the filling speed is usually 0.5~70m/s, and the filling time is very short, generally 0.01~0.03s
Die casting process
Die-casting company said that the die-casting process is a process of organically combining and applying the three die-casting production factors of die-casting alloy, die-casting mold and die-casting machine. When praying, there are many factors that affect the filling molding of molten metal, including injection force, speed, filling time, and die casting mold temperature.
1. Choice of pressure and speed. The choice of injection injection specific pressure should be determined according to the structural characteristics of different alloys and castings. The die casting company said that for the filling speed, generally for castings with high wall thickness or internal quality requirements, lower filling speed and higher pressure should be selected; For thin-walled castings or castings with high surface quality requirements and complex castings, a higher specific calendar and a higher filling speed should be used.
2. The pouring temperature refers to the average temperature at which the liquid metal enters the cavity from pressing. Since it is inconvenient to measure the temperature of liquid metal in the pressure chamber, it is generally expressed by the temperature in the holding furnace. The casting temperature is too high and the shrinkage rate is too large, so that the casting is prone to cracks, large grain size and sticky shape. If the pouring source is too low, it is easy to produce defects such as cold preservation, surface pattern, and insufficient pouring. Therefore, the pouring temperature should be considered together with pressure, die casting temperature and filling speed.
3. The temperature of the die-casting mold, the die-casting mold should be preheated to a certain temperature before use, generally using gas, blowtorch, electrical appliances or induction heating. In continuous production, the temperature of die-casting parts has a tendency to rise, especially die-casting high melting point alloys, and its temperature rises rapidly. Too high a temperature not only makes the liquid metal viscous, but also makes the casting cool slowly and makes the grains coarse. Therefore, when the temperature of the die-casting mold is too high, cooling measures should be taken. It is usually cooled with compressed air, water or chemical media.